Private Life Chapter 13: Michael Murphy's 1979 reproduction
This time we're going to look at one of the oddest editions of The Private Life of Sherlock Holmes to be published over the last 85 years. And for all of you who have owned a copy but have never taken it out of its wrappers, we're going to crack it open and show you what's been sitting on your shelf all these years.
Last time we discussee the popular Pinnacle edition, which was published in 1975, one year after Starrett's death. For that one, Michael Murphy, Starrett's friend and advocate, added a lot of new material to the 1960 edition of Private Life. The resulting paperback was a book that was popular with established Sherlockians and a training manual for us neophytes and casual Holmes buffs.
A Generous Offer
Having been involved with a new version of the 1960 edition, Murphy now wanted to go back to the beginning and reproduce the 1933 original edition, which had long been a collector's item. The idea was an old one, dreamed up with Starrett in the early 1970s, when Vincent needed cash to pay for daily needs and his growing medical bills. Copies of the 1933 edition in good condition were bringing high prices on the resale market. A reproduction of the classic Sherlockian work seemed a natural.
But there were problems. Starrett/Murphy needed up-front cash to pay for production costs. And, embarrassingly, they needed a good copy of the first edition to use for the scans.
Enter Andrew G. Fusco. Andy is a long-time friend, a veteran Baker Street Irregular (with the investiture of "Athelney Jones") and one of the country's greatest collectors of American mystery novels. (Andy's library is incredible and worth a visit should you ever find yourself near Morgantown, W.Va. I don't often use exclamation marks, but believe me when I tell you that visiting his library is an incredible experience!)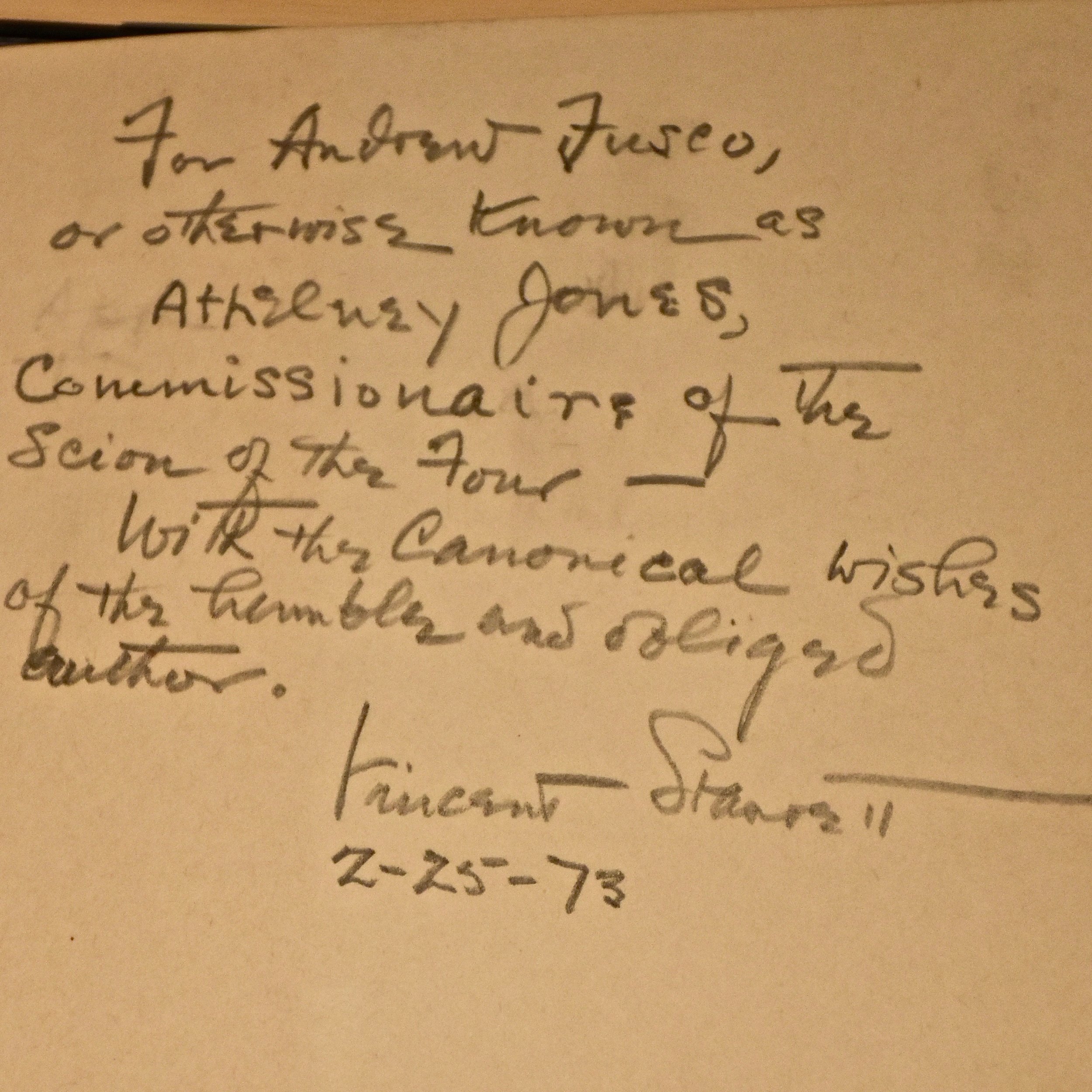 Forty years ago, Andy was a young collector and Starrett admirer who was hoping to get the Last Bookman's inscriptions on his books. Andy met Murphy at the annual cocktail party Julian Wolff held at his apartment on the Saturday after an Irregular dinner in 1973.
They discussed their mutual admiration for Holmes, and Murphy agreed to ask Starrett to inscribe Andy's books. When Andy sent his books to Chicago, the parcel contained several Starrett volumes including not one, but two, copies of the 1933 Private Life.
Murphy made Andy an offer: Starrett would warmly inscribe the books if they could keep one of the first editions. Andy agreed. And that's how Starrett/Murphy got a copy to use for the reproduction and Andy has some lovely inscriptions on his Starrett books. He also news clippings and all sorts of memorabilia including a membership card in the Hounds.
Let's look at the, uh, 'book'?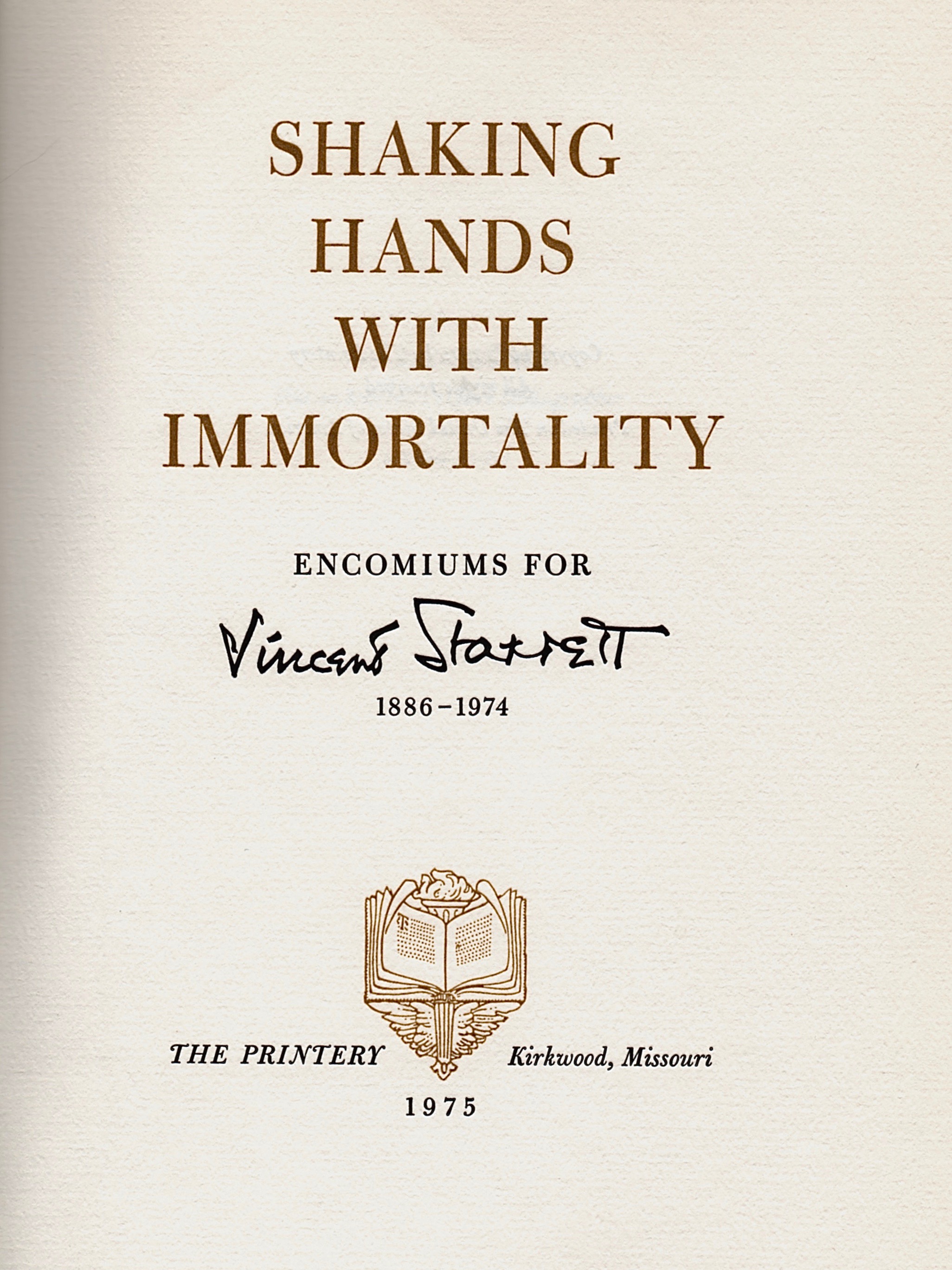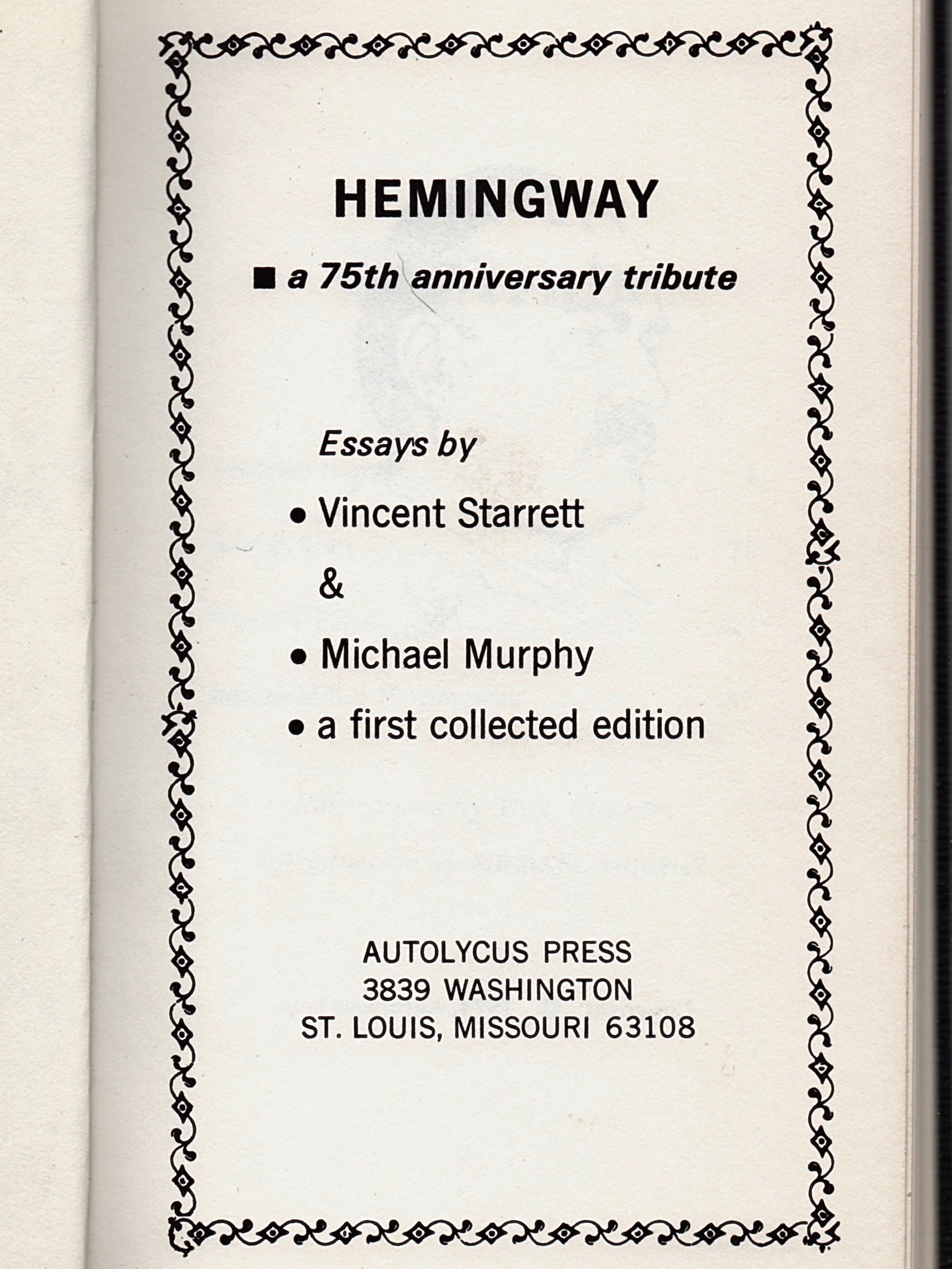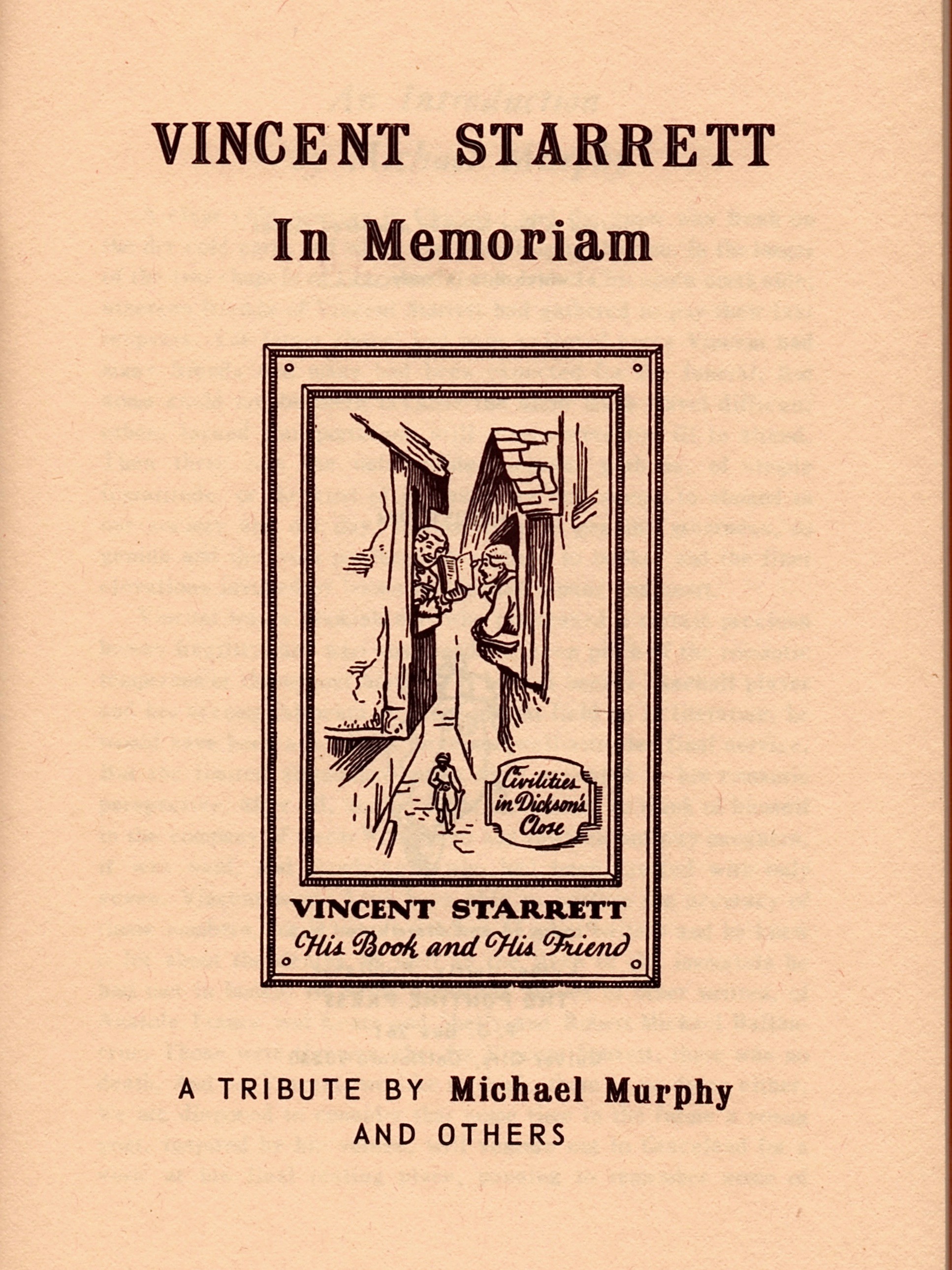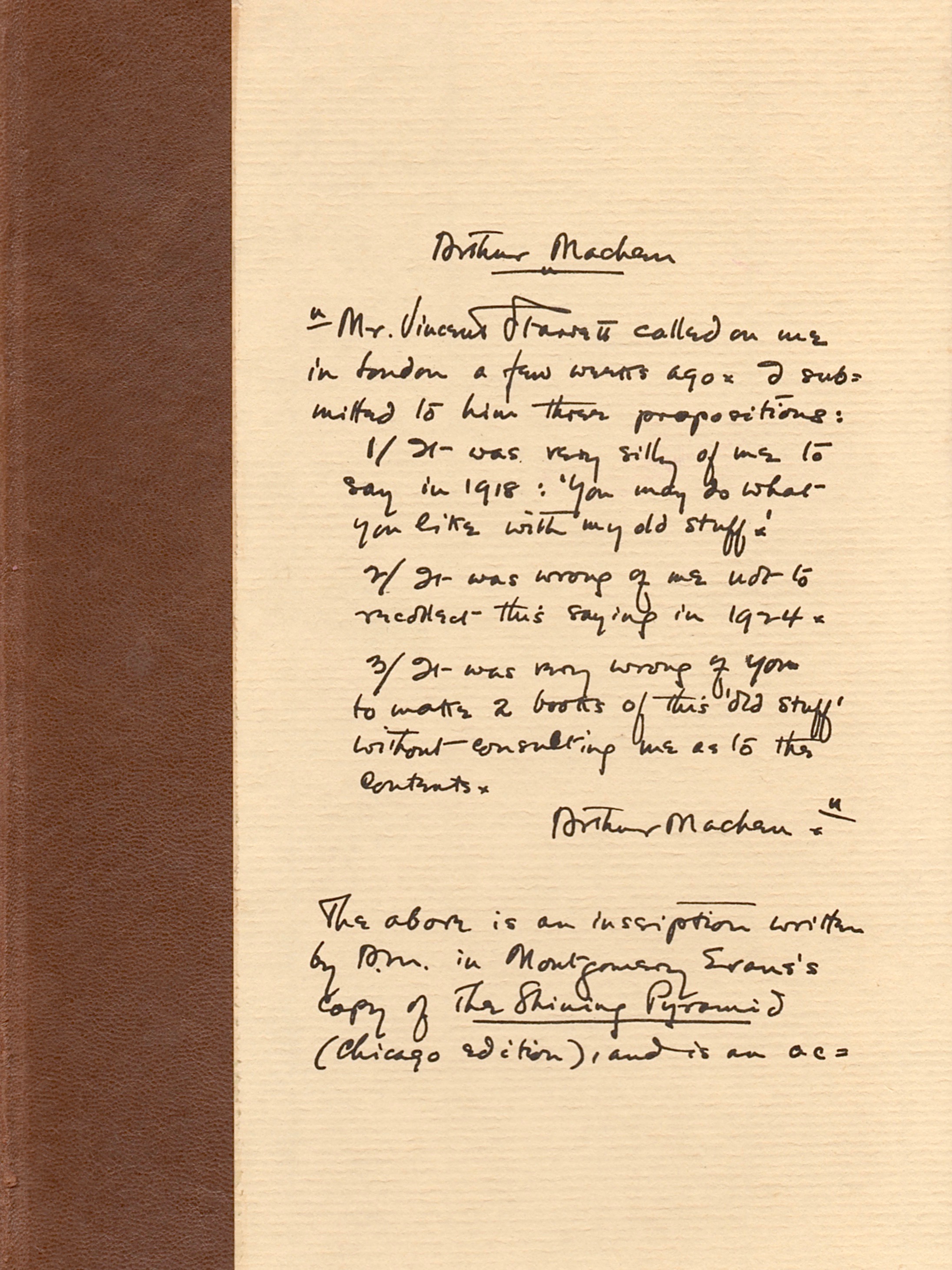 Murphy had plans for publishing several limited edition Starrett works, and cryptically says in correspondence that he had four backers. Those letters do not identify the backers or what level of financial commitment they had made to supports Murphy's plans.
Some of the works Murphy had planned were published and can be seen here; others never saw a printing press.
Reproduction of the 1933 Private Life landed somewhere in between.
This is normally the point in a chapter when I say, "Let's look at the book." But I'm not sure you can call this a book.
Let's look anyway.
Description of the 1979 facsimile as it was produced and sold.
A set of bound, unsewn signatures, 5 ½ X 8 ½, and about 1 inch thick.
There appear to be 15 signatures. (You can judge for yourself from the illustration that goes along with this section.
Copies were sealed in plastic with a cover sheet, reproduced here. Note that the cover sheet originally said this facsimile is "strictly limited 500 numbered copies."
On every copy I've seen, the number "500" is crossed out and "300" is written in black ink. Murphy notes on Andy's copy that this the 500 a "printer's error."
(It's pure speculation, but I wonder if that's true or if Murphy ran out of money after 300 had been printed and the cover sheet was already printed.)
The back is blank.
That's it.
If you have a copy and pull it off your shelf, that's about all that you can say for sure.
A Video Interlude
Here's a brief video looking at the first few pages of the reproduction.
Some observations:
For most of us, the 1979 reproduction remains a mystery, like a Christmas present in transparent wrapping paper, that sits under the tree in perpetuity. A few years back, I had the opportunity to buy a copy of this facsimile that had been unwrapped and bound by its previous owner.
So, for those of you who have kept your copies in wrappers, here's a glimpse at what's inside. Check out the video that goes with this section, and you'll see the first several pages. I've compared them with the pages of my 1933 edition and they are identical.
With one exception. See that little tab of paper that comes just before the title page? It says "4893B" and underneath the number "1" is inscribed in pen.
Is this in all the editions? Or was this inserted when the signatures were bound by the previous owner? I don't know. I also have no idea what the numbers mean.
But in every other way, this is an exact replica of the first edition that we looked at all the way back in Chapter 3.
The pages are stiff and thick. It's clear that high quality paper was used. This was a reproduction that was meant to last.
One place where reproductions often fail to meet the originals is in the photographs. The pictures here were expertly reproduced and look every bit as clear and crisp as they do in the first.
In all, this is exactly what it was designed to be: A complete reproduction of the original edition.
There is one disappointment. Unlike the Pinnacle edition, which placed the book into a historical context and spoke directly to the Sherlockian community, there is nothing new here. Which raises a question.
What happened to the "new and illuminating introduction by the author, an incisively vituperative statement that is already in the presses" which Murphy had promised in his brochure about the plans for this work? (See the description in goldenrod paper above.) Does that introduction survive in some form? If so, it is Starrett's last words upon the subject of Private Life and should be resurrected.
And why wasn't the edition finished? Did Murphy's backers back out? Did he not make enough off the other editions of Starrett's work to help support this edition?
Clearly, there are mysteries yet to be solved.
What is a book if it can't be read?
I always feel a little sad when I think about this reproduction of Private Life. Murphy had such big plans for it, plans that ultimately never came to fruition. Instead of the definitive reproduction of Private Life, he ultimately produced an oddity that is better known by collectors than readers. Oh, he put a brave face on it:
"This facsimile is unique, in that it is issued in unbound, unsewn signatures; no other work, to our knowledge, has been sold in this form as a limited edition in the 20th century. Collectors recognize the value of a book in signatures, this being the form in which it originally appeared when it came off the presses."
Whatever you call this work, it is certainly a curiosity for collectors. As for collectors, we'll leave the last word to Starrett himself:
"They are strange people, these book collectors."
—Vincent Starrett
"The Adventure of the Unique Hamlet."
Next Time: Otto Strikes Twice